Bill Hanley Soundman Extraordinaire
Who is this guy? And why should you…
Help Induct Bill Hanley of Hanley Sound into the Rock and Roll Hall of Fame!
Bill Hanley Soundman Extraordinaire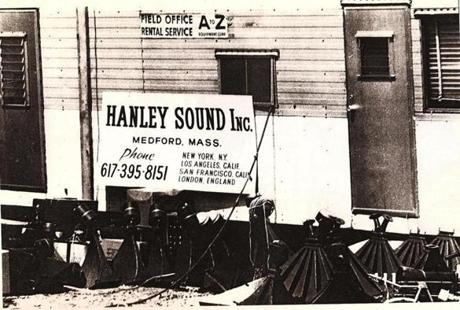 From John Kane:
I am a post grad doctoral student and for the past three years I have been researching the life/career of pioneer sound engineer Bill Hanley. Since the beginning of this research, until now my discoveries have been overwhelming.
Collectively, sound reinforcement is an area of technology that is often overlooked. It is my hope that the Rock and Roll Hall of Fame acknowledges, considers, and/or inducts Bill Hanley and his pioneering sound company into their institution. If the RRHF leadership were to peel away the layers of popular music as we know it today, they would surely realize that the area of "sound" owes much to Hanley's pioneering work. An acknowledgment like this would bring light and significance to an era innovation where quality sound in popular music mattered most...the 1960s and 1970s.
In my view (and others) Hanley was a primary force in bringing quality sound to the forefront of the evolving music and political arenas. When primitive public address technology was the "norm" for various events, the influence of Bill Hanley elevated the quality of sound via his innovative methods and application.
Lastly, if you choose to sign this petition would you kindly forward this email to your network of friends and colleagues? This will allow us to reach our rather ambitious goal.
Bill Hanley, soundman extraordinaire
Please follow and like us: