Friday 18 September
September 18, 1850, BLACK HISTORY & Slave Revolts: Congress passed the Fugitive Slave Law or Fugitive Slave Act as part of the Compromise of 1850 between Southern slave-holding interests and Northern Free-Soilers. This was one of the most controversial acts of the 1850 compromise and heightened Northern fears of a "slave power conspiracy". It declared that all runaway slaves were, upon capture, to be returned to their masters. Abolitionists nicknamed it the "Bloodhound Law" for the dogs that were used to track down runaway slaves.
September 18, 1945, BLACK HISTORY & School Desegregation: in Gary, Indiana, mounting pressure from civic groups such as the League of Women Voters, YWCA, and Gary Teacher's Union to desegregate schools pushed district officials to make another attempt at integration. Again, white students took to the streets en masse in an effort to curb integration.
September 18, 1950, Feminism:  Harvard Law School admits women for the first time. Thirteen female students were admitted.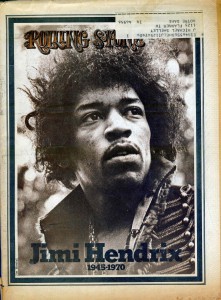 September 18, 1970, Jimi Hendrix: Hendrix, age 27, died in London.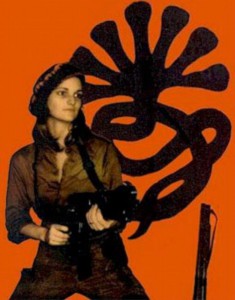 September 18, 1975, Symbionese Liberation Army: S.L.A. members Patty Hearst, Bill and Emily Harris, and Wendy Yoshimura arrested in San Francisco. When asked for her occupation while being booked, Hearst says, "urban guerrilla."
Friday 18 September
September 18, 2014, SEPARATION OF CHURCH AND STATE: the US Air Force reversed its policy requiring new recruits and those reenlisting to conclude a swearing-in oath with "So help me God."
The trouble for the Air Force had started when a Tech. Sgt. at Creech Air Force Base in Nevada with 10 years' service wanted to reenlist. As an atheist, he didn't see why he had to swear an oath to a deity he didn't believe in. It seemed to violate the religious establishment clause of the US Constitution. No other branches of the US military required it, nor did the honor code at the US Air Force Academy.
The sergeant had scratched out that last line in the Air Force enlistment/reenlistment document, which read in full: "I, [insert name], do solemnly swear (or affirm) that I will support and defend the Constitution of the United States against all enemies, foreign and domestic; that I will bear true faith and allegiance to the same; and that I will obey the orders of the President of the United States and the orders of the officers appointed over me, according to regulations and the Uniform Code of Military Justice. So help me God."
Friday 18 September
Friday 18 September
Friday 18 September
Friday 18 September
Friday 18 September
Friday 18 September