September 13, 1663, BLACK HISTORY & Slave Revolts: first serious slave conspiracy in Colonial America. White servants and black slaves conspired to revolt in Gloucester County, VA, but were betrayed by a fellow servant.
September 13, 1858, BLACK HISTORY: a group of Oberlin, Ohio citizens stopped Kentucky slave catchers from capturing John Price, a black man. Oberlinians, black and white, pursued the abductors to nearby Wellington at word of Price's kidnapping and took him back, later helping him across the Canadian border to freedom.
September 13, 1945, Vietnam: in accordance with the Potsdam Agreements at the end of World War II, 5,000 British troops of the 20th Indian Division, commanded by Gen. Douglas Gracey, arrived in southern Indochina to disarm the defeated Japanese forces  Gracey detested the Viet Minh and rearmed some 1,400 French soldiers who had been imprisoned by the Japanese. This effectively was the first step in the re-establishment of French colonial rule and set the stage for the conflict between the French and the Viet Minh that led to a nine-year war.
September 13, 1962, BLACK HISTORY & James H Meredith: the US District Court for the Southern District of Mississippi reordered the University of Mississippi to enroll Meredith.
September 13 – 14, 1965: The Second Big Sur Folk Festival. The festival featured: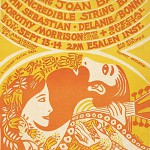 Joan Baez
The Incredible String Band
John Sebastian
Delanie and Bonnie
Dorothy Morrison and the Comb Sisters
September 13, 1969: The Toronto Rock and Roll Revival (Varsity Stadium, at the University of Toronto) over 20,000 attended. The appearance of John Lennon, Yoko Ono and The Plastic Ono Band was not publicly known in advance. It was Lennon's first-ever public rock performance without one or more of the Beatles since meeting Paul McCartney in 1957. He decided before returning to England to leave the Beatles permanently.
Whiskey Howl

Bo Diddley

Chicago

Junior Walker and the All Stars

Tony Joe White

Alice Cooper

Chuck Berry

Cat Mother and the All Night News Boys

Jerry Lee Lewis

Gene Vincent

Little Richard

Doug Kershaw

The Doors

John Lennon and Plastic Ono Band (Eric Clapton, Klaus Voormann and Alan White)
September 13 – 14, 1969: Sixth Big Sur Folk Festival. Made into a movie: Celebration at Big Sur. The Big Sur festivals had begun in 1964 held on the grounds of the Esalen Institute as a little get together. The site's inaccessibility helped keep it that way.
Featuring:
Joan Baez

Joni Mitchell

Crosby, Stills, Nash & Young

John Sebastian

Johanna Demetrakas

Dorothy Morrison & the Edwin Hawkins Singers

Mimi Fariña

Julie Payne

Ruthann Friedman

Carol Ann Cisneros

The Comb Sisters

Chris Ethridge

Flying Burrito Brothers

Struggle Mountain Resistance Band
For you Mad Men fans, Don Draper's fictitious story ends at that location:
September 13, 1971, BLACK HISTORY & Attica Prison Riot: tear gas was dropped over the Attica prison and state troopers opened fire on a group of over 1,200 inmates. In the chaos, 10 hostages and 29 inmates were killed by police gunfire and another 80 people were seriously wounded, the majority of them inmates, in what became the bloodiest prison uprising in U.S. history. Adding to the death toll were three inmates and a guard who had been killed earlier during the riot.
September 13, 1985,  Iran–Contra Affair: with President Reagan's approval, Iran received 508 US-made Tow missiles, as part of secret arms-for-hostages deal with US.
September 13, 1988, ADA: the Fair Housing Amendments Act of 1988 expanded the Civil Rights Act of 1968 to require that a certain number of accessible housing units be created in all new multi-family housing. The act covered both public and private homes and not only those in receipt of federal funding.
September 13, 1994, Feminism: the Violence Against Women Act of 1994 (VAWA) signed by President Bill Clinton. The Act provided monies toward investigation and prosecution of violent crimes against women, imposeed automatic and mandatory restitution on those convicted, and allowed civil redress in cases prosecutors chose to leave un-prosecuted. The Act also establisheed the Office on Violence Against Women within the Department of Justice. Its coverage extended to male victims of domestic violence, dating violence, sexual assault, and stalking.
September 13, 1994, DEATH PENALTY, President Clinton signed crime bill making dozens of federal crimes subject to death penalty.